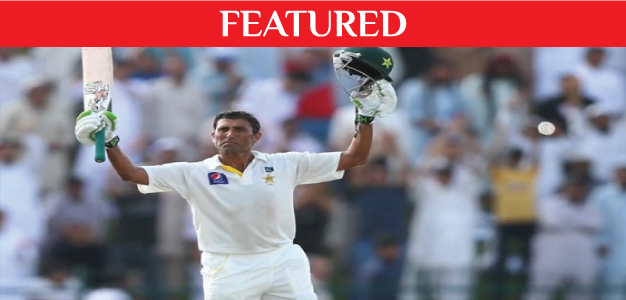 Star Pakistani batsman Younis Khan surpasses most runs record of Javed Miandad as he scored 45 runs in second inning of the first test. He achieved this milestone on his 102nd test match at an average of 54.07. Interestingly, the batsman already holds the record of most number of test centuries by a Pakistani.
On this historical moment, BiWi takes a look at brilliant career graph of Younis Khan:
Making the Impact
Younis khan made his debut in 2000 against Sri Lanka. It was a fascinating start for him as he scored a century in his very second inning of the test. With this impressive performance, he has arrived on the cricket arena but the world had yet to see his master class. For the next three years, he kept getting in and out of the team due to his inconsistent form. Much to his luck, he managed to cement a strong position at one-down after a phenomenal performance in home series against Sri Lanka where he scored 138 runs at an average of 69.
Performance in Test
Younis Khan is a self-proclaimed test specialist batsman who excels in rotating strikes rather than hitting big shots. He brought out the best of his class in test format where he average 54.07 in 102 test matches. His mammoth of 8852 runs includes his 30 centuries and 29 half-centuries making him the leading century scorer of Pakistan cricket. He also holds the record for making second most double centuries after Javed Miandad. Hopefully, he will surpass this record anytime sooner. He is the second-fastest Pakistani batsmen to reach 4000 runs hallmark which he made in only 87 innings. With such brilliant figures, he surely has super-batting skills in test format.
Performance in ODI
Unlike test, Younis Khan is not that impressive in ODIs where he averaged just above 31. For his 7240, he took 254 innings and scored 7 centuries and 48 half-centuries including his highest score of 144 runs innings against Hong Kong.
Performance T20
His underperformance in limited over format is evident in T20 as well where he made a total of 442 with an average of 22.10 featuring only two half-centuries.
A Brilliant Fielder
Apart from a great batsman, Younis khan is a brilliant catcher of the ball. His agility in slip position saw him catching over 250 catches in all three formats of international cricket making him a Pakistani fielder with most number of catches. Undoubtedly, he is regarded as one of the best fielders Pakistan ever seen.
Taking a Look Into His Best Performance
313 Against Sri Lanka
Perhaps the best innings of a Pakistani batsman ever, Younis Khan came out as a strong pillar after a crippling performance of top order. He made his career-best inning of 313 with help of 27 fours and 4 sixes with a strike rate of 55.11. His brilliant performance outshined innings of Jayawerdana (240) and Samaraweera (231). He was declared with man of the match award for his outstanding performance.
267 Against India
Younis Khan once again proved that he is the man of crisis. At a crucial stage when Pakistan was struggling at 7/2 against the arch rivals, he showed his true resilience and made a towering inning of 267 with help of 32 fours and a six. He even cemented a gigantic 324 partnerships with Inzamamul Haq. For his superb performance, he got the much deserving man of the match award.
106 and 103 Not Out Against Australia
The year 2014 turned out to be a landmark year for Younis Khan as he hit three centuries in a row. His twin centuries at Dubai Stadium was pivotal in winning Pakistan the first test. He walked away with both man of the match as well as man of the series award for his excellent performance.
biwi
,
Cricket
,
India
,
Inzamam Ul Haq
,
Javed Miandad
,
ODI
,
One Day International
,
Pakistan
,
Sri Lanka
,
T20
,
Younis Khan