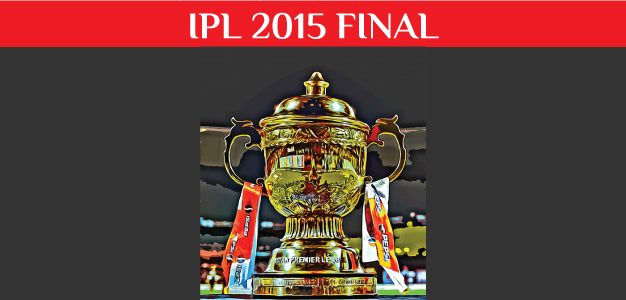 IMAGE COURTESY: http://cricketactionart.blogspot.com
IPL reached its climax on May 24, 2015 with a memorable win of Mumbai Indians against Chennai Super Kings. After losing from Mumbai Indians in Qualifier 1, Chennai Super Kings bounced back with a win over Royal Challengers Bangalore. The win kept their spirits high for the final where they were facing Mumbai Indians. But luck was on the side of Mumbai Indians who secured their second title in Indian Premier League.
Playoff Stage
Qualifier 1: Mumbai Indians vs. Chennai Super Kings
The playoff stage saw a cutthroat encounter between the four hot favorite teams. The stage started off with Chennai Super Kings and Mumbai Indians. Being the hot favorites, the two teams have to knock down the other to qualify for the final. The fans of Mumbai Indians took a sigh of relief as they won the match owing to explosive batting show of Kieron Pollard.
Eliminator: Royale Challengers Bangalore vs. Rajasthan Royals
After a close win over Kolkata Knight Riders, Rajasthan Royals had to face Royal Challengers Bangalore in eliminator round to qualify for the final. Royal Challengers Bangalore swept the match from Rajasthan Royals thanks to superb batting of A B De Villiers who made 66 unbeaten in just 38 balls and declared man of the match. Now, they had to face Chennai Super Kings in Qualifier 2.
Qualifier 2: Royale Challengers Bangalore vs. Chennai Super Kings
The two teams were ready to face the challenge at Ranchi Stadium which they had to win in order to qualify for the final. The odds were in favor of Royal Challengers Bangalore that had a little edge over Chennai Super Kings with a better batting side. In a twist of events, Chennai Super Kings went away with a memorable victory in the match as a result of devastating bowling of Ashish Nehra and explosive batting of Michael Hussey that proved to be a game-changer.
The D Day: Final of IPL 2015
The intense thrill of IPL league reached a boiling point as the two past champions encountered each other in a jam-packed Wankhade Stadium that accommodated over 67,000 attendants. The toss was won by Dhoni who invited the opposite team to bat first.
Mumbai Indians suffered an early loss when Parthive Patel got out while the score was just 1 on the board. Just when the supporters of Chennai Super Kings were running high in emotions came in Rohit Sharma. He showed his true colors and tore apart their bowling attack with his pinch-hitting. He scored his 50 runs in just 26 balls before he got out on a surprising delivery of Bravo. He was soon followed by L Simmons who was dismissed while the score was still 120. They were replaced by K Pollard and A T Rayudu who took the score to 191. Mumbai Indians finished with 202 in 20 overs.
In pursuit of 203, Chennai Super Kings lost a crucial wicket of Michael Hussey who scored just 4 runs. He was replaced by     S K Raina who added 66 with D R smith before Smith fell prey of Harbhajan Singh. The skipper M S Dhoni came in but he could not live up to the expectations of his team and got bowled on a stunner by Lasith Malinga. This turned out to be a huge blow on Chennai Super Kings and their batting collapsed like falling like a house of cards. As Harbhajan Singh delivered the final ball of the last over, Mumbai Indians celebrated their second win in final of Indian Premier League.
biwi
,
Chennai Super Kings
,
Cricket
,
IPL
,
IPL 2015
,
IPL 2015 Final
,
IPL Final
,
Mumbai Indians
,
Mumbai Indians vs. Chennai Super Kings
,
Sports
,
T20