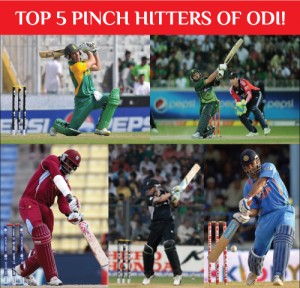 One-day cricket is the format of cricket that adds colors to this widely-played form of cricket. However, one-Day cricket is all about aggressive attitude and rapid style of batting. The very thought of watching flying sixes and fours accelerates the heartbeat of the audience and keeps them engaged with the game. The fast-paced of the game has produced the pinch-hitters like A B De Villiers, Chris Gayle, Brandon Mcculum, M S Dhoni and Shahid Afridi who can turn the game with their explosive style of batting.
Biwi sheds light on some of the most dangerous players of One-day international format who can destroy any bowling side with their aggressive style of batting:
1.    A B De Villiers
A B De Villiers has reset new standards of batting with his rapid style of batting. The batsman holds the record for the fastest 150, 100 and 50 of the ODI. His unforgettable innings of 149 off only 44 balls is one of the iconic innings of recent times. A B De Villiers also holds the record for most number of six that he shares with Rohit Sharma and Chris Gayle. The player has an amazing strike rate of 98.16, which is the highest of any South African player in history of cricket.
2.    Chris Gayle
Fondly known as Gayle Storm, Chris Gayle is no different to a storm who can single-handedly sweep a game with his hard-hitting style of batting. The batsman has scored the only double-ton in cricket world cup 2015 when he scored 200 runs off only 138 balls. He equaled the record of most sixes in an innings when he scored 215 against Zimbabwe in cricket world cup 2015. He hit the third-most number of sixes in an ODI career.
3.    Brandon Mccullum
Brandon Mccullum or Bazz is a New Zealander hard-hitter who is known for hitting the ball over the fence. He is an aggressive batsman with an impressive strike rate of 93.47. He has broken his own previous record of highest fifty in a World Cup match when he scored 50 in only 18 balls against Australia in cricket world cup 2015. Brandon Mccullum ranks sixth in most number of sixes hit by a batsman in 50-over format of cricket.
4.    M S Dhoni
Considered as greatest finisher of the game, M S Dhoni is among the dangerous pinch-hitters of ODI game who can dismantle any bowling side. His 183 off 145 is the second best individual score in the second inning. He hit 10 sixes during the innings which is also the fifth highest by any batsman in limited overs. He ranks eighth for scoring most runs in boundaries when he scored 183 against Sri Lanka. Dhoni holds the record of the best average by a wicket-keeper batsman in One-day international format.
5.    Shahid Afridi
What can be more lethal than making the fastest century in your second match? This is Boom Boom Afridi for you. Shahid Afridi is best known for his aggressive style of batting that can destroy crush any bowling attack. Boom Boom Afridi has a distinction of scoring two of the ten fastest centuries in ODI. He retained the record of fastest century for almost 18 years before C J Anderson broke it in 2014. Shahid Afridi holds the record for hitting the most number of six in an ODI career with a total of 346. He is credited with 3 of the ten fastest fifties in history of ODI cricket. Boom Boom Afridi has a fierce strike rate of 116.67.
A B De Villiers
,
Bi Wi
,
Brandon Mccullum
,
Chris Gayle
,
Cricket
,
Cricket Pinch Hitters
,
Cricket World Cup 2015
,
fashion bridal
,
M S Dhoni
,
One-day international Cricket
,
Sports