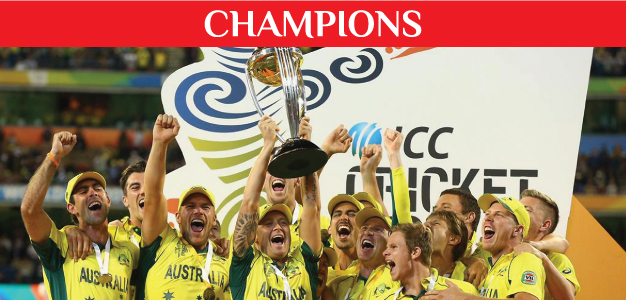 Hey cricket fans! The World Cup 2015 is over and Australia once again becomes new champion of ODI cricket. In the final match of Cricket World Cup 2015, Australia Cricket World Cup team beats New Zealand by 7 wickets in a rather one-sided match. New Zealand's invincible performance of eight wins ended after they went down to Australia in World cup cricket 2015. The final turned out to be a rather one-sided match due to mediocre performance of New Zealand batting side.
The two teams had a thrilling encounter in the group stage when New Zealand bowled out Australia on a meager total of 152. However, Australia showed a great resilience and crippled the powerful batting side of New Zealand. Australia almost had the match on its side when they restricted Kiwis to 146 for 9 before Kane Williamson hit the winning run and deprived Australia from a memorable victory.
Australia Rules Cricket Again After 8 Years
Australia ruled international cricket for 18 years before they were defeated by India in 2011 Cricket World Cup. The team also suffered a defeat from Pakistan in group matches stage. It was also their first defeat after winning 34 consecutive matches. Australia is the only team in history of international cricket who appeared in four consecutive finals of ICC Cricket World Cup. It is also the only team to win three consecutive world cup titles.
Australia Cricket World Cup team re-claimed the title after a lapse of eight years. After winning three Cricket World Cup titles (1999, 2003 and 2007) in a row, Australian team were knocked out from 2011 Cricket World Cup when India defeated them in quarter final stage.
Highlights of 2015 Cricket World Cup Final
Collapse of New Zealand Batting Side
All cricket fans set their eyes on Melbourne Cricket ground where the two neighboring countries Australia and New Zealand played the final of cricket word cup 2015. It was a promising start for the Kiwis who won the toss and elected to bat first. However, a positive start soon turned into an ordeal when New Zealand lost its skipper Brandon Mccullum in the very first over of Mitchel Starc. The dismissal of Brandon Mccullum proved to be a severe blow to Kiwis and they lost two more early wickets.
After losing 3 wickets at a meager score of 39, Grant Elliot and Ross Taylor came in and took the score to 150.  What followed is an unstoppable fall of New Zealand batting side that collapsed like stacks of cards. From 150 for 3 to 183 all out, it took only 61 balls for Australia to bowl out 7 Kiwi batsmen who added only 33 runs on the scoreboard.
Australia's Cakewalk of the Victory of Cricket World Cup Final
Chasing a miniature of 183, it was like a cakewalk for the kangaroos. However, the situation took a little twist when Trent Boult caught and bowled Aaron Finch for not in the very first over. Steven Smith came in and joined David Warner. The two shared a partnership of 62 runs for second wicket. Matt Henry struck a blow on Australia when he dismissed David Warner on 45.
After suffering two early wickets, Captain Michael Clarke came on the crease and took the charge of Australian batting. Along with Steven Smith, he added valuable 112 runs on the scoreboard before finally falling prey to a surprise delivery of Matt Henry that blew away the bails.
However, it was too late for the Kiwis to do any damage as Australia was only 33 runs away from the victory. It was Steven Smith who played the winning shot that reached the boundary and Australia celebrated its fifth victory in Cricket World Cup final.
James Faulkner was awarded Man of the Match for his stunning bowling spell of 3 for36, while Mitchell Starc was declared player of the tournament for his outstanding bowling performance. It was an all-round performance by Australia who outclassed Kiwis in every department. It is certainly a deserving win for the Kangaroos.
biwi
,
Brandon Mccullum
,
Cricket World Cup
,
Cricket World Cup 2015
,
ICC Cricket World Cup
,
ICC Cricket World Cup 2015
,
ICC Cricket World Cup Final
,
Melbourne Cricket Ground
,
Michael Clarke
,
Sports