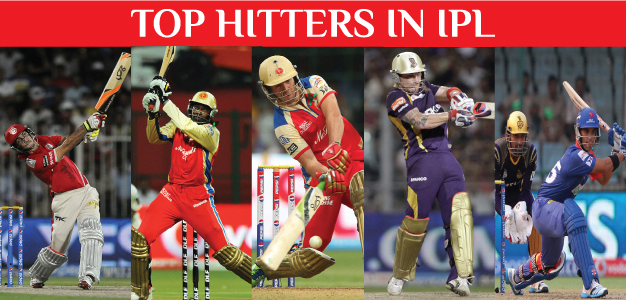 The IPL 2015 has reached its zenith as we witness some of the best batting display in the last couple of matches. To tell the truth, IPL is known for its pinch-hitting style of batting. This event of cricket has produced some of the best batsmen in business.
The trend of pinch-hitting has given an entertaining dimension to cricket IPL where more people cheer for a six or four than a dismissal. So, when so many people are under spell of this magical game, let's see the top 5 batsmen who are known for their fiery style of batting:
1.    Chris Gayle
Inarguably, the most dangerous batsman ever in history of cricket, Chris Gayle or Gayle Storm, as he is fondly known as, is in fact a storm that sweeps away everything with his fiery batting style. His gigantic sixes often land at rooftops of cricket ground. Chris Gayle has an outstanding strike rate of 178 which in itself a proof of his pinch-hitting style of batting. He has scored over 2700 runs in 68 matches that include 192 massive sixes. He plays for 'Royal Challengers Bangalore'.
2.    A B De Villiers
A B De Villiers hails from South Africa and is currently the skipper of its national cricket team. However, this is not his only claim to fame as he is an explosive batsman in IPL. A B De Villiers has set new standard of batting in T20 format of cricket. As soon as he is settled on the crease, he plays his natural style of cricket which is based on long sixes and fours. He has made more than 2000 runs in IPL with a strike rate of 138, including 81 sixes. He will represent Royal Challengers Bangalore in IPL 2015.
3.    Glenn Maxwell
Glen Maxwell is another best pinch-hitter in IPL. Known as 'The Big Show', he has the ability to turn the tables in a game with some big hits. Glenn Maxwell known no rules when it comes to hitting sixes and he can hit big sixes at any side of the ground. An Australian batsman, he has scored over 1800 runs in IPL T20 with a strike rate of 131.65. His career runs in IPL is graced with an impressive 110 sixes.
4.    Jean-Paul Duminy
Jean-Paul Duminy is a South African batsman who is known for his hard-hitting style of batting. As best finisher of cricket IPL, Duminy can make an impact with his explosive batting in the last overs of the game. Currently, he has scored 1458 runs in 56 IPL matches with a killer strike rate of 122.83. He has hit 58 boundaries over the fence.
5.    Brandon Mccullum
Who can forget the fiery batting of Brandon Mccullum in the last cricket world cup? Brandon Mccullum is one of the fewest batsmen who can destroy the best bowling attack with his long hits. He has an impressive strike rate of 122.77 which includes 67 sixes. This batsman of Chennai Super Kings has scored 1644 runs in 62 matches.
A B De Villiers
,
biwi
,
Brandon Mccullum
,
Chris Gayle
,
Cricket
,
Glenn Maxwell
,
IPL 2015
,
IPL Batsmen
,
IPL Cricket
,
IPL India
,
Jean-Paul Duminy
,
Sports