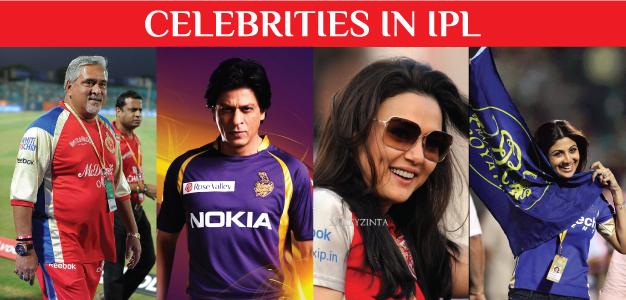 The fever of IPL is reaching boiling point with every passing day. What make this game of cricket more interesting are famous Indian celebrities who cheer for their team. It is interesting to see the face of Shahrukh Khan or Preity Zinta every time their players hit a six or take a wicket.
So, if you are oblivion about Indian celebrities who own a team in IPL, let us introduce you with some big names:
1.    Kolkata Knight Riders (Owned By Shahrukh Khan and Juhi Chawla)
The official team of Bollywood superstars Shahrukh Khan and Juhi Chawla, Kolkata Knight Riders emerged into IPL scene in 2008. Initially, the team struggled with performance in first three seasons of the IPL tournaments. However, it showed gradual improvement in the last four seasons of IPL. It was in 2012 when they eventually became IPL champions, a feat they achieved again in 2014. Kolkata Knight Rider is the defending champion in IPL 2015.
2.    Kings XI Punjab (Owned By Preity Zinta and Ness Wadia)
The dimpled Bollywood actress Preity Zinta co-owned the franchise of Kings XI Punjab with Mumbai-based her ex-beau businessman Ness Wadia. The team has been a consistent performer in IPL for the last seven years and made it to final in IPL 2014 which resulted in its defeat to Kolkata Knight Rider. The team suffers poor performance in IPL 2015 resulting in 7 defeats in 9 matches.
3.    Rajasthan Royals (Owned By Shilpa Shetty and Raj Kundra)
Owned by famous Bollywood actress Shilpa Shetty and Raj Kundra, Rajasthan Royals was considered an underdog when it emerged in IPL. However, it proved everyone wrong in 2008 when it became the first champion in history of IPL. The team was surrounded in spot-fixing controversy when two of its players were arrested on charges of spot-fixing. Rajasthan Royals is a strong contender in 2015 IPL and has a distinction of winning five matches in a row.
4.    Royal Challengers Bangalore (Owned by Vijay Mallya)
Renowned Indian business tycoon Vijay Mallya purchased franchise of Royal Challengers Bangalore in 2008. Since then the team has emerged as one of the strongest contenders in IPL seasons. Having qualified for the final for two times, the team is a hot favorite in IPL 2015 where it ranks third in the group stages. The team is led by star Indian batsman Virat Kohli in IPL 2015 who took over as captain of the team in 2012.
5.    Mumbai Indians (Owned By Mukesh Ambani)
Mumbai Indians is purchased by the riches Indian and business magnet Mukesh Ambani. After getting knocked out from Group Stage in IPL 2008, the team made it to the final in 2010 where it lost to Chennai Super Kings. The team has been performing consistently since then. Mumbai Indians again qualified for finals in 2011. The team has a mix performance in 2015 with 4 wins and 4 losses. Mumbai Indians had the star cricketer Sachin Tendulkar who also captained the team until 2011. He quit the team after his retirement from international cricket in 2014.Mu
biwi
,
Indian Premier League
,
IPL
,
IPL 2015
,
Juhi Chawla
,
Kings XI Punjab
,
Kolkata Knight Riders
,
Mukesh Ambani
,
Mumbai Indians
,
Ness Wadia
,
Raj Kundra
,
Rajasthan Royals
,
Royal Challengers Bangalore
,
Sachin Tendulkar
,
Shahrukh Khan
,
Shilpa Shetty
,
Vijay Mallya
,
Virat Kohli