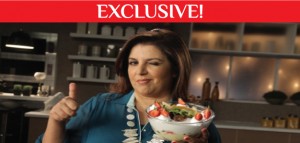 Today, we have some juicy news from Bollywood gossips. After rocking the audience with her excellent hosting gig, Farah Khan is back again on Colors with a new show. But this time, she has good reasons to boast about her show as it is the only cooking show that features Bollywood celebrities who cook their favorite dishes.
The first episode of the show was aired on 22 February and since then it has garnered huge publicity in media. The show has featured some of the famous Indian celebrities that include the likes of Abhishek Bachchan, Arjun Kapoor, Alia Bhatt, Sonakshi Sinha, Yuvraj Singh and Sania Mirza.
The Hype
The hype of 'Farah Ki Dawat' spread like fire. Even before the official launch of the show, the media circles filled Bollywood gossips column about the possible celebrity guests who will appear on the show. It is the first ever show that will feature Bollywood celebrities who will try their hands at cooking. The first episode of the show featured Bollywood actor Abhishek Bachchan who cooked his favorite dish 'Dahi Chicken'.
Let's check out some highlights of Farah Ki Dawat that makes it worth a watch:
Celebrities
The show hosted some of the well-known names from entertainment industry that include celebrities of TV and films. The list goes with Bollywood superstars that include Anil Kapoor, Abhishek Bachchan, Karan Johar, Jacqueline Fernandez and Aliah Bhatt. On the other hand, the show will feature Indian TV superstar Kapil Sharma as well as Pritam Singh, Diandara Soares, Sambhavna Seth and Gautam Gulati of Bigg Boss fame.
The Show  
This is a reality show on cooking theme that will invite celebrities to cook one of their most favorite dishes. This is will be the first time you will watch famous Bollywood celebrities making their favorite dishes on a reality show.
Controversy
It was rumored from media outlets that Farah Ki Dawat will invite Shahrukh Khan for Grand Finale. In a surprising move, King Khan stepped out of the show when it was revealed that Kapil Sharma declined the former's offer to appear in his show 'India Poochega…..Sabse Shaana Kaun?
This irked King Khan who decided not to appear in Grand Finale of 'Farah Ki Dawat'. Finally, he was replaced by Kapil Sharma as a chief guest for Grand Finale and if we go by the sources the Grand Finale has been shot with other star celebrities as well including Anil Kapoor, Jacqueline Fernandez and and Ali Asghar, the famous 'dadi' of 'Comedy Nights with Kapil'.
Although, these developments have added a little bit of controversy to the show, it only helped the show grow higher in ratings. Hope, we would see some more interesting episodes from this one of its kind show in history of Indian TV.
Abhishek Bachchan
,
Alia Bhatt
,
Anil Kapoor
,
Arjun Kapoor
,
biwi
,
Bollywood
,
Farah Khan
,
India Poochega Sabse Shaana Kaun
,
Indian Film Celebrities
,
Indian TV Celebrities
,
Jacqueline Fernandez
,
Kapil Sharma
,
Sania Mirza
,
Shahrukh Khan
,
Sonakshi Sinha
,
TV
,
Yuvraj Singh