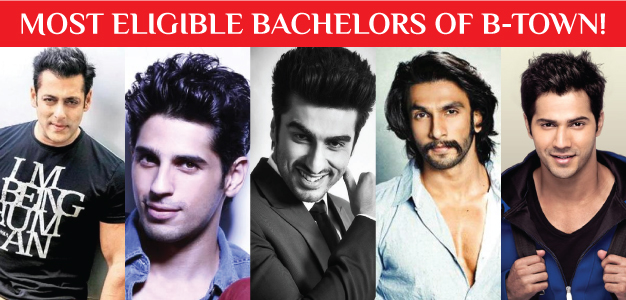 In reel life, they play lovers who woo a girl and then get her in the end. But, in real life they are far away from finding their true dream woman. The life of these bachelor Bollywood stars is similar to a typical Bollywood film where a hero is desperate to find the love of his life.
Let's check out in today's Bollywood gossips the 5 most eligible bachelors of B-Town who has not tied the nuptial knot yet:
Salman Khan
The most eligible bachelor of Bollywood, Salman Khan has been romantically involved in the past with many of his co-stars. Unfortunately for him, none of those affairs resulted in a marriage. Despite his good looks and phenomenal success, the bliss of wedding seems a distant dream for this Bollywood superstar.
Ranbir Kapoor
This blue-eyed boy of Kapoor family was once labeled a "playboy" by the media. His romantic link-up with Deepika Padukone filled voluminous Bollywood gossips columns. Presently, he is in a relationship with the Barbie doll Katrina Kaif. Media has put the couple on the spot with their questions which they managed to get away with. Keeping their intimacy in mind, there is strong reason to believe that they will marry any time sooner.
Varun Dhawan
He is a boy wonder who surprised everyone with his impeccable acting talent. Varun Dhawan has everything that makes him the most eligible bachelor of B-Town. After achieving so much of success in such meager age, he seems in no hurry to tie the nuptial knot.
Arjun Kapoor
Arjun Kapoor is one Bollywood newcomer who has made a huge transformation with his looks. Though he still has not achieved much success in Bollywood, he certainly has the looks to woo any girl. From a chubby guy to a muscular hunk, he has significantly made a change when it comes to his personality. Today, he is regarded as among the most eligible bachelors of Bollywood.
Ranveer Singh
The most handsome hunk of Bollywood today, Ranveer Singh enjoys a phenomenal mass appeal in women. He is an accomplished actor and a brand ambassador of some of the renowned international brands. Today, he is loved by millions of people and most notably by his girlfriend Deepika Padukone. The tabloids have written a lot about their romantic link-up and we hope that both Ram-Leela will get married soon.
Sidharth Malhotra
Good looks, fame and money, Sidharth Malhotra is a complete package for a marriage. After making a fantastic debut in Student of the Year, the actor has achieves star status and many girls are running after him for marriage. However, this guy seems not ready for the nuptial knot.
Arjun Kapoor
,
biwi
,
Bollywood
,
Bollywood Gossips
,
Marriage
,
Ram Leela
,
Ranveer Singh
,
Salman Khan
,
Showbiz
,
Sidharth Malhotra
,
Varun Dhawan
,
wedding