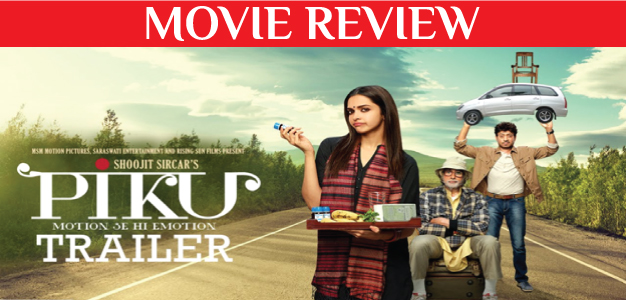 IMAGE COURTESY: www.koimoi.com
We have a new Bollywood comedy film this week and its name is Piku. The film is a comedy-drama that explores of three central characters: Piku Banerjee (played by Deepika Padukone), Rana Chaudhary (played by Irrfan Khan) and Bhaskor Banerjee (played by Amitabh Bachchan).
This Hindi Bollywood film explores lives of a daughter and her obsessed father who is suffering from hypochondria. Piku looks into facets of human relationship and how it turns around things for good. We take a look into what this comedy drama has to offer to the audience:
Story
This Bollywood Hindi film features Deepika Padukone in a title role as Piku. She is an obedient daughter who keeps nagging with her father Bhaskor over his irritating habits. On the other hand, Bhaskor is suffering from bowel problem and is obsessed with the ailment. Their tormented relationship is saved by Rana Chaudhary who happens to meet the family and offer his voluntary services to drive them from Delhi to Kolkata. This is where the film picks up momentum and humor reaches its climax. The journey is mingled with hilarious equation between Bhaskor and Rana Chaudhary who involve in an outrageous conversation over the former's bowel problem.
A Story With a Breeze of Fresh Humor
Piku has some really hilarious moments, especially between characters Bhaskor Banerjee and Rana Chaudhary. The film is filled with some scatological jokes that breathe a life in the film. Amitabh Bachchan excels with his comic timing, while Irrfan Khan does a fine job with his dry humor and makes his presence felt with the thespian actor.
Shoojit Sircar Steals the Show
Shoojit Sircar wittily describes the complexities of ageing with interesting interaction of Piku and Bhaskor. He skillfully deals with the subject in this light-heated Bollywood Hindi film that translates into big screen. With Piku, he successfully takes his class of direction to the next level.
Verdict
Piku is a creative story that that feels fresh and original. Piku is about three stupid fellows and this is what makes them special. With Piku, Shoojit Sircar reminds us of Hrishikesh Mukerjee's storytelling that says a social message in a lighter tone. Similar to Hrishi Da's school of films, this Bollywood film balances the fine line between humor and stupidity. The best thing about this Hindi Bollywood film is its original subject that adds a touch of novelty. All-in-All, it is a must-watch entertainer for Bollywood fans.
Amitabh Bachchan
,
biwi
,
Bollywood
,
bollywood film
,
Box Office
,
Comedy
,
Deepika Padukone
,
Hrishikesh Mukerjee
,
Humor
,
Irrfan Khan
,
Jokes
,
Piku
,
Shoojit Sircar