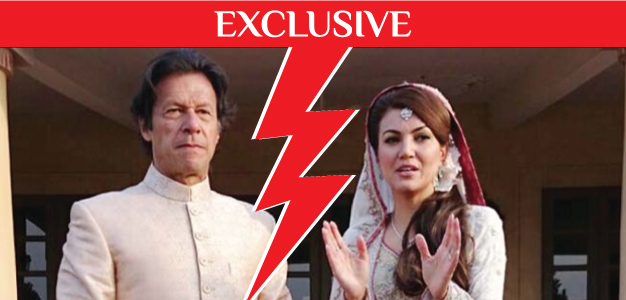 In January this year, Imran Khan became subject of the biggest news when he married Reham Khan and as 2015 approaches to its end, he is back in media limelight with breaking-news of his divorce with her lady. The chairperson of Pakistan Tehreek-e-Insaaf, country's third largest party, and his second wife parted ways just after 10 months of their shaadi. The news broke out at a time when PTI is busy in local body elections in Punjab and the news might turn out to be a big blow to its staunch voters.
Though news of separation between the ex-Pakistani cricket captain and his wife was in media outlets for the last few months, the two brushed aside the news and even tweeted about such stories as petty and baseless. The rumor factory has that the two were not in good terms for some time after their marriage. Their strained relationship reached tipping point after Reham Khan involved in internal party affairs and political matters.
An Inspiring Marriage Comes to an End, What Went Wrong?
The cricketer-turned politician married Reham Khan in January this year in a Muslim wedding attended only by family and friends. Unlike his first wife, Reham Khan was a Pashtun Muslim working for a foreign news channel as a broadcast journalist. She got divorced from his first husband and was living as a single mother of three. When Imran Khan tied the nuptial knot with Reham Khan, it was a rather compatible match considering that both were Pashtuns and have a common ground in politics.
Rumors of turbulence in their shaadi filled gossip columns after Imran Khan returned from London where he was staying with his ex-wife and sons. Upon his return, it was reported that the couple developed severe differences as Reham Khan was not comfortable with Imran Khan's proximity with his ex-wife Jemima Goldsmith.
However, Imran Khan strongly denied all such reports citing them as baseless rumours. But a renowned British newspaper has another story to tell. According to the newspaper, a source close to the couple revealed that the politician's first wife was behind this entire story.
"We know what Jemima is doing. We know that she is behind this smear campaign. She doesn't want Imran's marriage to succeed because she is jealous," is what the source had to say to the newspaper.
Public Opinion
The news came out in midst of local body election in Punjab and was a surprise for people in Pakistan. As soon as the news hit public eyes, it began attracting comments and opinions from every sector.
Considering that it emerged at a time when local body elections are at its climax, a large section of opinion makers and social commentators believe that it might have repercussions on polling results. Imran Khan is known for his rock-solid resilience and looking back at his past; it would be interesting to see if he could come out strong from aftereffects of his divorce episode.
Cricket
,
Current Affairs
,
Imran Khan
,
Jemima Goldsmith
,
Local Body Elections
,
London
,
Marriage
,
Pashtun
,
Politics
,
Reham Khan
,
Tehreek-e-Insaaf
,
wedding