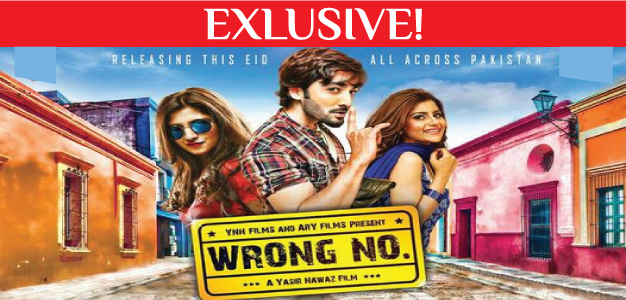 SOURCE: www.trendinginsocial.com
Pakistani cinema is undergoing a survival phase. Pakistan film and entertainment industry has given some fantastic films in recent times including Na Maloom Afrad, Waar, Jalaibee and Bol. These recent blockbusters are a proof that we are treading towards a better and entertaining cinema. And now we have more new from entertainment news. Yasir Nawaz is all set to make us go awe with his directorial debut "Wrong Number".
Let's find out what the film holds for the audience:
Cast
Wrong Number has some of the biggest names of Pakistani entertainment industry that includes the likes of Javed Sheikh, Shafqat Cheema and Danish Nawaz. All these actors are legendary in their respective genre of acting. Javed Sheikh has been an influential name in Pakistani cinema who has performed in variety of roles, while Shafqat Cheema is a household name in Pakistan who redefines the idea of villain in Pakistani movies. Danish Nawaz needs no introduction for the viewers of Pakistani TV industry and we expect that he will not fade the expectations of the audience. The film will also feature budding actors Danish Taimur, Soha Ali Abro and Janita Asma who will make their debut on big screen with this film.
Subject
According to the initial reports, the film will be a romantic comedy that will have elements of a typical masala film. The film also has a love triangle between Danish Taimur, Janita and Sohai who are playing leads in the film. The presence of new actors breathes fresh touch to this film and we expect that their fiery energy will translate into the screen.
With this film, we will get to see a new lot of cinema which is fresh and vibrant. Unlike previous Lollywood films that were mainly based on social themes, Wrong Number will be a light-hearted comedy with a mixture of romance, action and thrill. In other words, we can say that this film is going to set trend of "Masala Films" that are predominant in Bollywood cinema.
Trailer
We have more from the entertainment news. The trailer of the film is already in the limelight and making strong waves in the audience. It shows Danish Taimur as a wannabe acting geek who wants to make it big in films but somehow gets entrapped in the situation. The trailer features actors Javed Sheikh who is playing father of Danish Taimur along with Shafqat Cheema, Danish Nawaz and Nadeem Jaffery.
Music
The music of the film will be composed by music composer Waqar Ali who has worked with Yasir Nawaz in his cult-classic sitcom "Nadaniyan". We hope that he will create something original and melodious this time again which has been his benchmark.
Expectations?
Considering the ensemble cast that includes the veteran actors like Javed Sheikh and Shafqat Cheema, we can expect that the film will make an impact in box office. The film will be released on Eid and we hope that it will provide wholesome entertainment to the Pakistani audience. But, we have to wait until 18 July for final verdict.
biwi
,
Danish Nawaz
,
Danish Taimur
,
Janita Asma
,
Javed Sheikh
,
Lollywood
,
Lollywood films
,
Nadaniyan
,
Shafqat Cheema
,
Showbiz
,
Soha Ali Abro
,
Waqar Ali
,
Wrong Number
,
Yasir Nawaz