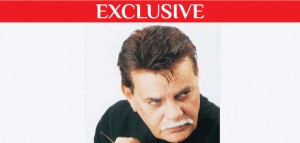 Hey, we have some juicy entertainment news from TV industry of Pakistan. Legendary Pakistani actor Shakeel is awarded Sitara-i-Imtiaz for his outstanding contribution to Pakistan TV and film industry. He is among the veteran Pakistani actors who received the coveted medal that includes the likes of Moin Akhtar.
Shakeel made his film debut in 1966 stunner "Honehar". Later on he joined TV industry and performed his first role in 'Naya Raasta' penned by Haseena Moin. He was casted opposite Neelofer Aleem and they both were looked perfect together in the serial. Afterwards, the two acted in many serials together including the 1973 PTV classic Shazori.
With a career that spans more than 40 years, Shakeel has come a long way as an actor and performer. BiWi drills down some of the best works of this veteran Pakistani actor:
Uncle Urfi
One of the classics of PTV, Uncle Urfi was a brainchild of genius Hasina Moin and directed by Mohsin Ali. Uncle Urfi revolves around a Pakistani expatriate 'Uncle Urfi' who is attracted towards Beena as he comes back to Pakistan. Uncle Urfi has the best of talented actors that includes the likes of Jamshed Ansari, Qurban Jilani and Azra Sherwani. However, it was matchless acting skills of Shakeel that outshined the others.
Ankahi
Produced in 1972, it is inarguably the finest performance of Shakeel to date. Ankahi explores the life of Taimur (Shakeel) who falls for Sana. The drama has some really memorable moments between Shakeel and Shahnaz Sheikh. Shakeel plays Taimur, the MD of a company, and his skirmishes with Sana, played by Shahnaz Sheikh. It is the brilliant chemistry between Shakeel and Shahnaz Sheikh that comes out as the highlight of this classic PTV drama.
Angan Terha
Angan terha is a political satire that depicts Shakeel in a pivotal role. Shakeel plays the character of a retired civil servant, namely Mehboob Ahmed. It was his comic timing and acting skills that matched with the comedy genius Salim Nasir. Mehboob Ahmed is one of the best roles played by the veteran actor Shakeel.
Shezori
Shehzori is again a masterpiece of Hasina Moin which narrates the story of a married couple and how they go through the ordeal in their lives. The drama spins around the story of two couples who keeps their marriage secret to their parents. Shakeel plays Mustafa, a weak man who fears standing for his wife. Shakeel persuades the audience with his realistic portrayal of a vulnerable husband and how he deals with crisis in his marital life.
biwi
,
Celebrity News
,
Entertainment
,
Entertainment News
,
Shakeel
,
Showbiz
,
Sitara-i-Imtiaz