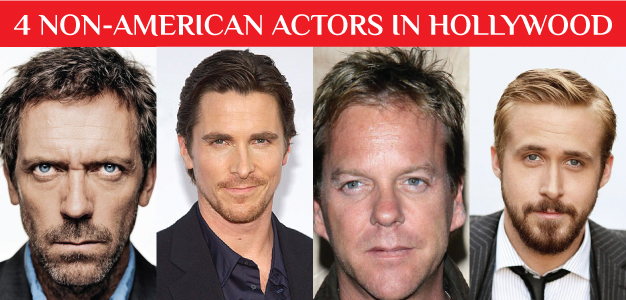 Hollywood is the hub of movies and its actors find a readymade fan following across the whole world crossing the barriers of language and region. Not only its audience is vast and varied, its actors also hail from many different countries. Contrary to the belief, there are many actors in Hollywood who are not Americans.
Here are 5 of them:
1.    Hugh Lauries
Hugh Lauries is not only an accomplished actor but a perfect "poly-accent'ist" too, well we have coined a new term on the basis of polyglot. When he speaks perfect American English with an accent, nobody can doubt that he is a Native American. But the fact is that he is not. The actor spent his childhood in Oxford and educated in Cambridge. But when he joined Hollywood, the first thing he realized was that "he would not need to learn acting only, he needs to learn the accent too, an American accent". And learning diligently, he mastered his accent so much that eventually he got a comment from House's co-producer Bryan Singer during an audition: "This is what I want: an American guy."
2.    Kiefer Sutherland
To the surprise of many readers, the actor is actually not an American. He hails from Canada and is very Canadian, biologically and politically as well. In fact, Canada's New Democratic Party, well known for its liberal ideology, was founded by his Grandfather Tommy Douglas. The Canada Love did not limit itself to the precincts of politics only, though. The present Health Care System of Canada was also conceptualized and executed by the same guy.
3.    Elisha Cuthbert
This "Beauty Damsel" with "piercing, beautiful eyes" made her first entry in Hollywood as Jack Bauer's daughter. However, it was "The Girl Next Door" that helped her to gain a respectable position in the list of accomplished actors. Thanks to her thorough research and learning the nuances of the "real trade" She went beyond the expectations in her role of an ex-porn star in the movie. Even after reaching the heights of popularity in Hollywood, this true "Canadian" (yes, she was born in Calgary!) still maintains her Canadian citizenship. Even before coming to Hollywood she was already popular with Canada-kid-audience, who saw and appreciated her first stint with camera as co-host of "Popular Mechanics of Kids", a show that was "very Canadian" and was loved across the country, even breaking the "barriers of age" with a good following of adult audience too.
4.    Ryan Gosling
He is another actor who is not an American. He was born in Ontario. Actor is well-known for his intense acting skills and thorough research on his characters. The actor with "expressive eyes" first auditioned for "The Mickey Mouse Club".  His iconic role in masterpieces like "Remember the Titans", helped a lot in bringing out his real actor. He won many hearts with his immaculate and perfect acting in the movie. He still respects his roots and maintains the Canadian citizenship.
5.    Christian Bale
This actor who had a large fan following is well-known for his iconic performance in the movies like Captain Corelli's Mandolin, Shaft, Reign of Fire and Laurel Canyon. His first stint with the camera was as a model for a cereal advertisement. He furthered the "glam career" and eventually landed in Hollywood. Very less people should know that this "Hollywood Heartthrob" is actually not an American. He was born in Wales, UK. His mother was circus artist while his father was a pilot. But the family lived across many different countries and that helped Christian to be adept at adopting himself according to the regional characteristics.
Tansingh is a writer who lives in Jaipur and is also a member of "Pinkcity Author Group". a group that helps new writers. When not writing, he can be found roaming in the woods, watching birds or listening to music. A person of scholarly pursuits, his dream is to become a well-known writer one day.
biwi
,
Christian Bale
,
Elisha Cuthbert
,
Hollywood
,
Hollywood Celebrities
,
Hugh Lauries
,
Jack Bauer
,
Keifer Sutherland
,
Laurel Canyon
,
Mandolin
,
Popular Mechanics of Kids
,
Reign of Fire
,
Ryan Gosling
,
Shaft
,
Showbiz
,
The Girl Next Door