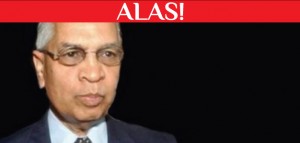 Pakistan judicial society left in tears when the news of Rana Bhagwandas was spread on 23 February, 2015. He was an active activist in the 2007 Lawyer's Movement. He was the third non-Muslim Chief and the first Hindu to assume the office of Justice of Pakistan. The demise of Rana Bhagwandas left a huge void in judicial system of Pakistan. He left behind a legacy of equality and rule of law for all the religions and communities of Pakistan.
Bi Wi takes a look into the life and career of Pakistan's first Hindu Chief Justice of Pakistan:
Life and Career Highlights
Justice Rana Bhagwandas was born in Naseerabad, Larkana in a Hindu family on December 20, 1942. He pursued education in law and acquired a master's degree in Islamic Studies. He started off his career as a lawyer in the year 1965. After completing his practice in law, he joined judicial system of Pakistan in 1967. He was appointed as Session Judge before emulating the title of Judge of Sindh High Court in 1994.
In 2000, he was appointed as Judge in Supreme Court of Pakistan under PCO during the tenure of General Pervaiz Musharraf. In 2006-7, Justice Bhagwan Das became member of bench of Justice that included Justice Syed Jamshed Ali and Justice Nasir Ul-Mulk. He earned commendable applaud when ruled against General Pervaiz Musharraf to quit his army post. Throughout his career, he supported equality of law and promoted it across plurality of religions and communities, including minorities. He was also a staunch opponent of prejudicial practice of Honour Killing. He denied PCO oath when General Musharraf declared emergency and dismissed Chief Justice of Pakistan.
Tenure as Acting Chief Justice of Pakistan
Justice Bhagwan Das became the third non-Muslim and first Hindu Judge to assume the office of Chief Justice of Pakistan in 2006 when Chief Justice Iftikhar Muhammad Chaudhry went to China. He again took the incumbent position in December 2006 when Chief Justice of Pakistan Iftikhar Muhammad Chaudhry left the country for pilgrimage. In March 2007, he was again appointed as Acting Chief Justice of Pakistan when then Chief Justice of Pakistan Iftikhar Muhammad Chaudhry became dysfunctional after a petition was filed against him in Supreme Court of Pakistan.
Death
Rana Bhagwandas was undergoing treatment for heart ailment for the last few days. He was pronounced dead on 23 February, 2015 in a Karachi Hospital where he was treated for heart ailment. His cremation in Karachi was attended by a large number of people, including lawyers, member of civil society and politicians.
Chief Justice of Pakistan
,
Chief Justice Rana Bhagwandas
,
Current Affairs
,
Judiciary of Pakistan
,
Lawyer's Movement
,
Pakistan
,
Pakistan Judiciary
,
Pervaiz Musharraf