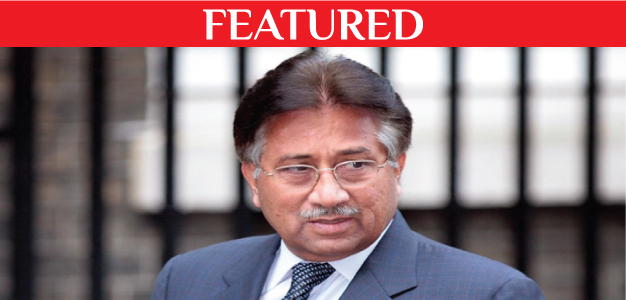 Former president and ex-Army Chief of Pakistan Pervez Musharraf is more in news today for his legal battles than political affairs. Currently he is facing serious legal cases in regards with Benazir Bhutto assassination, death of Akbar Bugti and killing of Abdul Rashid Ghazi. The ex-president of Pakistan is implicated in 'high treason' charges for declaration of emergency on 3 November 2007.
A Retired Soldier
Pervez Musharraf has written his memoire 'In the Line of Fire' in 2006 where he shared his experiences as a soldier and his tenure as head of state of Pakistan. Today, he is a retired army chief who enjoys no power in politics. In a country that is ruled by Army leadership for more than 25 years, it is quiet ironic that this soldier is facing courts. This solider is awaiting justice from independent judiciary of Pakistan.
Background of Events
Pervez Musharraf served Pakistan as its head of state for almost 8 years. He emerged on the center-stage of Pakistani politics in 1999 as a result of power-play between Pakistani army and Nawaz Sharif government which ended with takeover of the army. What followed was a long tenure of army leadership that lasted for eight years. During his governance, Pakistan saw a growth in economy and rise is public awareness due to influx of private media channels in TV industry.
On the other hand, he is held responsible for rising terrorism in Pakistan and increasing insurgency in tribal areas and Baluchistan. Some opinion makers and media experts praised him for his constructive reforms in Pakistan economy, while some criticized him for his policy post 9/11 that brought Pakistan in brink of a war with Taliban.
Self-Exile, Return to Pakistan and Indictment in Cases
Pervez Musharraf resigned from his seat in 2008 after he was faced with a potential impeachment movement by then opposition. He left for London in 2008 where he stayed until March 2013 when he came back to Pakistan amidst 2013 General Elections. He faced charges in Pakistan as he was declared a fugitive in absentia. After his return to Pakistan, he was disqualified by Supreme Court of Pakistan from participating in General Elections.
House Arrest
In April 2013, Supreme Court of Pakistan issued house arrest warrant for Pervez Musharraf. Following his house arrest warrant, he was confined to his farm house until November 2013 when he was freed following a bail.
Charges of High Treason
Upon his house arrest, he was charged with High Treason for his involvement in 3 November Emergency and its subsequent events. Currently, the verdict is reserved on this legal matter.
Assassination of Benazir Bhutto
In June 2013, Pervez Musharraf was implicated in Benazir Bhutto assassination when a court declared him prime accused in assassination of Benzair Bhutto on 27 December 2007. He was officially charged in the case on 25 June 2013. The case is under trial right right now.
Death of Akbar Bugti
Pervez Musharraf is facing trial for his alleged involvement in death of Akbar Bugti that occurred in 2006. He faces severe punishment if proves guilty in the case.
Killing of Abdul Rashid Ghazi
Pervez Musharraf is a prime accused in killing of Abdul Rashid Ghazi who was assassinated during Lal Masjid operation in 2007. The FIR was lodged by the son of deceased cleric who was killed after a full-fledged army-led operation that killed more than 50 people. The IHC issues a non-bailable warrant against the ex-president who is facing trial under the case.
Fate of Pervez Musharraf
Pervez Musharraf has been a popular figure in Pakistan. He is known in history for his radical reforms in Indo-Pak relations, his policy on 9/11 that brought Pakistan in war against Taliban and his milestone achievements in improving economy of Pakistan. It will be worth watching if this soldier of Pakistan could stand test of time.
Current Affairs
,
Current Affairs Pakistan
,
Pakistan
,
Pakistan Army
,
Pervez Musharraf
,
Politics in Pakistan