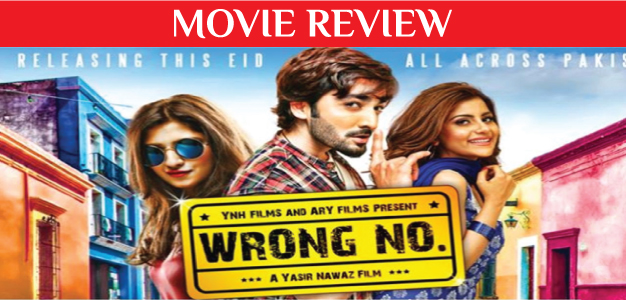 Finally Wrong No, the most-awaited film of the year, has hit Pakistani theatres and we have some interesting things to share with you about this film. Wrong No is a romcom that is more Bollywood in style than Pakistani genre of cinema. Made on a meager budget of 8 crore, the film has done decently well on the box office.
BiWi takes a dig at the movie as it completes its second week:
Plot
Wrong No is a story of a small-town boy Sallu Played by (Danish Taimoor) who dreams of becoming an actor one day. He encounters flirtatious attempts of Laila (Played by Sohai Ali Khan) who happens to be his neighborhood but he has no interest in the lady as his only love is acting.
However, his patriarch father has other plans for him as he wants him to marry Laila (Played by Sohai Ali Khan) and join his profession of butcher. Much to his luck, he is saved by his lookalike Shehryar (Played by Danish Taimoor) who is a nawab and lives abroad. As Shehryar comes to Lahore to look after his family business, he is received by Haya (Played by Janati Asma) who works as secretary in his company.
Things get complicated as he ended up in life of Sallu who flees his home to make a fortune in Lollywood. In all this chaos, a gang plans to kidnap Shehryar in hope of grabbing a huge ransom. What follows is a hotchpotch of confusion that will leave you with bouts of laughter.
Strong Points
A Rib-Tickling Comedy
Wrong No is credited with many of hilarious scenes that will get you in fits of laughter. Javed Sheikh is particularly good in his comic timing and dialogue delivery. Danish Nawaz and Nadeem Jaffri justify their roles with brilliant comedy. Overall, the film is a mindless comedy, so leave your brain at home if you want to have the real fun in this film.
Power-Packed Actions Sequences
Wrong No features some really fantastic actions scenes that worth many praises. The fight scene between Javed Sheikh and Shafqat Cheema is a special mention that will make you go awe in surprise.
Weak Points
Mediocre Performances
Wrong No lacks any breakthrough performance. Except for Javed Sheikh, no other actor could do full justice to their roles. The lead Danish Taimoor, Sohai Ali Khan and Janati Asma did fair job with their characters but they could do much better.
Bollywoodization
Wrong No has soul of Bollywood which is quite apparent in its storyline. The film looks like a typical Bollywood masala that has elements of love, drama and action. Although, there is no harm in emulating Bollywood style, there has to be some creativity in the process which the film lacks.
Verdict
Overall, Wrong No successfully manages to make people laugh with its comic moments. Considering the new breed of actors, the film does a fair job. Watch it if you want to have a good laugh of 3 hours.
Score: 2.5/5.