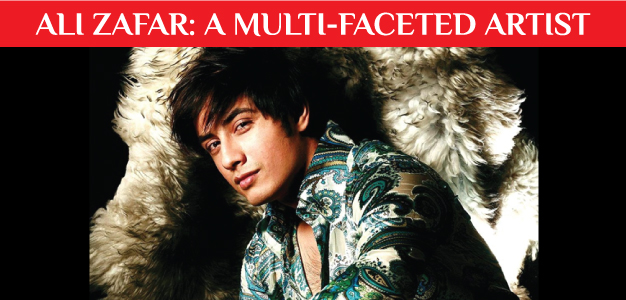 Blue-eyed boy of Pakistan Ali Zafar has more reasons to celebrate his success today. He is a painter, singer, song-writer, composer and now an actor. This multi-faceted talent began his career in 2003 with his blockbuster album 'Huqa Pani'. Today, he is a renowned musician and an acclaimed actor. Ali Zafar has quiet an interesting story of success. With a middle-class socioeconomic background, it is fascinating to know that Ali Zafar achieved such phenomenal success in such short period of time. For many Pakistanis, he is a living idol and inspiration for youth.
BiWi looks at life and career highlights of this amazing talent from Pakistan:
A Star is Born…
Ali Zafar was born in Pakistan to well-educated parents. Both of his parents were professors in University of Punjab. However, Ali Zafar has different plans in his mind. Unlike his parents, he pursued painting as his profession. After completing his graduation in Fine Arts from National College of Lahore, he earned a living from his painting sketches. But, this was just to launch his music album and he launched it in style. What followed is an amazing story of success that will inspire you.
How It All Began?
The Sensational Launch of Huqa Pani
Ali Zafar made a sensational debut with his album 'Huqa Pani' in 2003 that changed the things for him. The album went on to become a huge success and songs  like 'channo', 'rangeen' and 'chal dil mere' topped chartbusters. Huqa Pani achieved tremendous appreciation and made Ali Zafar an overnight star. It was a perfect launch for such a talent. Many of his famous songs from 'Huqa Pani' are even copied by renowned music composers of India.
Masty Creates Hysteria
After a phenomenal success of 'Huqa Pani', Ali Zafar came up with his second album 'Masty' in 2006. The album was a huge success both in domestic and overseas market. The album made him a rage in India. Masty was particularly praised for rendition of upbeat tunes that were perfectly blended with catchy lyrics.
Jhoom: A Sufi Album That Touches the Soul
After Masty, Ali Zafar took a five years hiatus from music as he was busy in movies. In 2011, he tried hands in Sufi music and launched 'Jhoom'. It was a tough call for Ali Zafar who has never tried something as elitist as Sufi music. He managed to garner massive appreciation for 'Jhoom' and gained a different fan-following with success of the album.
Ali Zafar Steps Into Films
After tasting phenomenal adulation from his music endeavors, Ali Zafar then tried his hands in acting. He was to make a debut in Shoaib Mansoor's 'Khuda Ke Liye' along with Shaan. Unfortunately, he retracted from the project due to some reasons. He made a rather impactful launch with a Bollywood film 'Tere Bin Laden' in 2010. The film turned out to be a success and establish his acting career in Bollywood cinema. With his other successful films that include 'London Paris New York', 'Mere Brother Ki Dulhan' and 'Chashme Baddoor', Ali Zafar has arrived in Hindi Bollywood films.
With a fantastic music career and a dream launch in Bollywood, everything is going in favor of this Pakistani munda. In a country like India, it is heartening to see that Pakistani Ali Zafar has proved his mettle and worked along the likes of Govinda and Katrina Kaif. We hope that Ali Zafar continues to inspire us with his new music and acting gigs.
Ali Zafar
,
biwi
,
Bollywood
,
bollywood films
,
Huqa Pani
,
Jhoom
,
Masty
,
Pakistan
,
Sufi Music