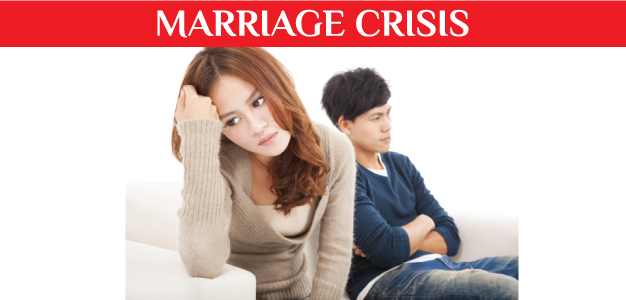 PHOTO COURTESY: http://www.patheos.com
Having a turbulent marriage is like a nightmare that no one would like to go through in life. Nonetheless, there are times when things do not work the way it should be. Why people suffer in a marriage depends on how they tackle the whole relationship. Sometimes, it is the communication gap that causes the crisis, while it is a lack of trust the other time. In any case, marriage crisis pose negative effects on our life in general and our emotional health in particular.
How to Deal With Marriage Crisis?
However, marriage crisis can be manageable if dealt with positive approach. Any emotional crisis provides you with an opportunity to identify your weak points and learn from your mistakes. So, it deserves when you put all your efforts on dealing with marriage crisis as it leaves positive effects on your life. Therefore, if your marriage is on the rocks, you can alleviate the pain without hiring services of a marriage counselor.
So, if you are a victim of marriage crisis and want to save your marriage, then you need to follow these expert tips aimed at couples counseling.
1.    Take It as an Opportunity
Any emotional crisis is an opportunity to realize your weak points. So, if your marriage is under crisis, it might be because of your personal shortcomings that you are unaware of. By looking things in perspective, you can help yourself save your marriage and grow as an individual. Rather getting panicked, you should tackle the entire mater in positive spirit.
2.    Communication Always Pays
Even grave political issues are solved with communication. When heads of state sit on a table to negotiate political conflicts, they are able to find a way to resolving them. So, if two rival countries can resolve matter with communication, then why not two partners in a marriage?
Communication has the power to turn foes into friends. Therefore, you need to sit together with your spouse and communicate with them about conflicting matters between two of you. The best way to do this is a dine-out affair where both can share matter of concerns without interruption of others.
3.    Acknowledge Your Mistakes
Taking ownership of your mistakes is the first step towards resolving marriage crisis. By acknowledging your mistakes, you are able to analyze your weakness and find a way to get rid them in future. These shortcomings might have a connection with issues in your other relationships. By working on honest opinions of your spouse, you can change your life for good.
4.    Make It a Private Affair
Conflict resolution is always effective when you directly address a matter with the concerned person. So, if you are having a problem with your spouse, it is better to take her in confidence rather than washing your dirty linen in public. No other person can understand the dynamics of your relationship better than you, so it is advisable to communicate the matter directly with your spouse.
5.    Avoid Pressure Tactics
Pressure tactics never help in marriage crisis. On the contrary, it deteriorates equation with your spouse. Marriage is not a competition where you have to practice mind-games to undermine your spouse. In contrast, it is a scanted relationship which is based on mutual love and trust. So, if you want love from your spouse, you need to make her feel love with sincerity and not manipulation.
6.    Rekindle Romance in Your Marriage
Sometimes, it is the death of romance in a marriage that leads to marriage crisis. When you devoid your spouse of love and affection that she deserves, it will only create frustration in the marriage. So, if your marriage is suffered due to lack of love, then it is time to spark that romance again. A romantic holiday is the best way to recreate that magic in your marriage. Find a destination where you both can spend time together and relive moments of life.
7.    Find a Mediator as a Last Resort
As a last resort, you can ask someone to mediate in the matter. Get mediation of someone whom you can trust. You can even hire a professional marriage counselor or marriage therapist to help you cope up with your marriage crisis.
Hopefully, these tips will help you become more effective spouse in a marriage relationship and save your marriage.
biwi
,
Marriage
,
Marriage Counseling
,
Marriage Crisis
,
relationship advice
,
Relationship Management Tips